The XK 120 offered state of the art looks and performance on its launch in 1948 and was immediately in demand both as the ultimate road going sports car and as a class winning race and rally car. Demand greatly out stripped supply while Brown's Lane adapted the original hand built aluminium roadsters for series production.
Delivery in the Republic was further complicated by enormous rates of duty on directly imported cars. To circumvent this most manufacturers supplied 'Completely Knocked Down' (CKD) kits for their Irish agents to assemble locally, usually with some locally sourced components. Frank Cavey & Sons in Camden Street were Irish agents for Jaguar, assembling some SS saloons since 1937 and MkV and MkVIIs immediately post war. There was a close working relationship and friendship between Mr Cavey and Mr William Lyons (as he then was). Six CKD 120 roadsters were received by Cavey's in early 1951 and the first car was assembled in Dublin that Summer. Another six roadsters were assembled and sold in 1952 along with another 20 or so XK's directly imported fully assembled.
Here we look at the history behind some of these Irish assembled XK's and their owners from the 1950's to the present.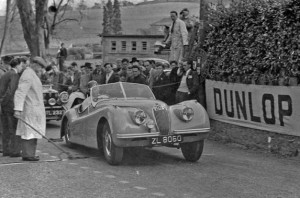 ZL 8060: The late Frank Bigger was a skilled self-taught mechanic and keen amateur racing driver. He purchased XK 120 chassis 660746 (engine W2942-8) from Cavey's, where he was later to become Service Manager, in October 1951. A month later he entered it in the international Daily Express Rally in Britain the first event in the car's extensive competition career. Most Irish races were run on handicap and during 1952 it progressively lost its bumpers, headlights and windscreen in an attempt to gain an advantage in a host of races and hillclimbs. The highlights of the year were winning the Cox Memorial Trophy outright in a rain soaked Curragh in June and racing in the Wakefield Trophy against C Types and Formula 2 cars at the same venue in September. Race appearances continued throughout the 1950's but at a lesser rate as Frank started entering the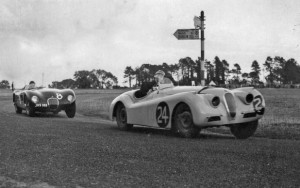 Monte Carlo rally each January. (He won outright in 1956 with Ronnie Adams and Derek Johnston in a works Mk VII.) Though too large to be really competitive in Irish rallies ZL 8060 also took 4th and 5th places overall in the 1953 and 1954 Circuit of Ireland events. ZL 8060 started life in 'Sun Beige' (with red wheel centres) but was later painted racing green and then red as it changed hands to Cork in 1967 then Kilkenny in the 1970's. The car was again raced in the Phoenix Park and the Enniskerry hillclimb, this time in the historic class, in 1975 and competed in a Dublin University MC Night Test Trial in 1979. The current owner acquired ZL8060 in 1984 and  restored it to take part in events such as the Circuit of Ireland Deja Vu commemoration.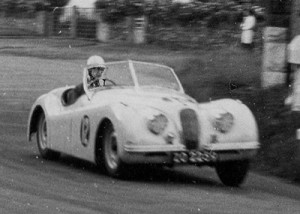 ZO 2259 : Leslie Spivack had raced his MG TD at the Leinster Trophy in Wicklow in the Summer of 1951 where he had doubtless been impressed by the speed of new Jaguar XK120's in the hands of Cecil Vard and Dr Bill Tinsley. In May of the following year he  took delivery of his own white XK120. It spent week days parked on Stephen's Green while he studied in the College of Surgeons but he quickly returned to the Wicklow town circuit. The most prestigious race was won by Desmond Titterington who went on to become a works Jaguar and Mercedes sportscar driver as well as having some Formula 1 races in Vanwalls and Connaughts. Later that year he finished 6th in the scratch Wakefield Trophy in the Curragh, behind Sir James Scott Douglas in a C type but ahead of Frank Bigger's XK. He continued to race in the South and in the Ulster Trophy in the North until he traded in the Jaguar for an Aston Martin in the mid 50's. ZO 2259 was last seen in Dublin around 1963.    The photograph below shows the grid at the delayed start of the 1952 Leinster Trophy. ZO 2259 is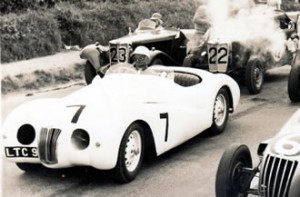 behind the over heating MG Special of Lyall Collen but the interesting car is No 7. This is the stripped out BMW Brescia of Gil Tyrer, one of a pair of special bodied 328's built to compete in the 1940 Mille Miglia and widely believed to have been the 'inspiration' behind the XK 120's dramatic body design. After a very full and active life Dr Spivack passed away, quite suddenly, in the Spring of 2012.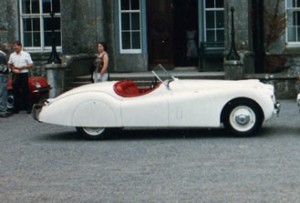 ZO 908 : From the second batch of CKD kits, chassis 660807 (engine W3140-8) was assembled in late 1951, 6 years before the late John Dickenson arrived in Cavey's to make the tea and work as a gopher for the mechanics. The car was bought by the owners of Gateaux Cakes in Finglas before passing into the ownership of a successful businessman and amateur racing driver. As the car changed hands John worked his way up to bodywork preparation then car assembly and engine building but always promising himself that he would one day own what he considered to be the most beautiful of all Jaguars, an XK120 roadster. He didn't realise his dream until 1983, 4 years after he left Cavey's, when he found ZO 908 decaying in a Donegal churchyard. The car then spent 3 years in his Artane garage, well known to Jaguar owners of the 1980s and 90s, before he started on a meticulous 2 ½ year restoration. The quality of the work and the thought that went into it makes John's car exceptional and it is better to drive now than when it was new. The twin cam six now has S type heads and cams and breathes through a self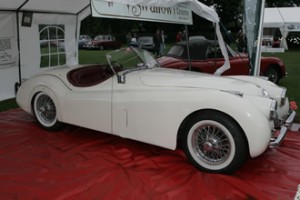 designed exhaust system. John originally restored the bodywork as original with full spats but has since converted it to wire wheels and more practical slimlines. The car also carries some personal momentos of Cavey's Charlemont Place assembly plant and Camden Street garage – a 'Frank Cavey & Sons Ltd' badge on the dash and a hand made 'XK 120 3.4' badge on the tail. ZO 908 had many adventures in its life but one of the highlights was when Stirling Moss took the wheel for some high speed laps of the Dundalk Street Racing circuit in 1989. Sadly John passed away in May 2010 and ZO 908 had to be reluctantly sold to the UK in 2013. Both are greatly missed by friends and Jaguar enthusiasts throughout Ireland.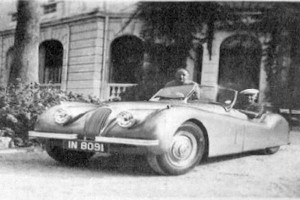 IN 8091 : Chassis 660747 (engine W2951-8) was a kit supplied by Browns Lane in April 1951 and assembled by Cavey's a month later with bronze paintwork and a beige interior. In July it was supplied to Mc Cairns Motors, a large company holding the Irish franchise to assemble Vauxhalls amongst other marques, for Mr Arthur White who registered it at the hotel near Sneem, Co Kerry where he holidayed each Summer. Seven years later the car was sold to a Mr Arneill in Northern Ireland who kept the IN 8091 registration as both North and South were still using the original UK and Ireland numbering system at this time. In September 1962 it passed to a young Belfast hairdresser, John Gordon Summerville. Mr Summerville was courting a girl in Dublin and he found the 3.4 litre Jaguar too heavy on petrol for his frequent trips South so, a year later, he bought a smaller car and sold IN 8091 to Robert Brownlees. At this stage the car was painted red but Robert had it resprayed ivory and ran it for 5 years before taking it off the road for some repairs.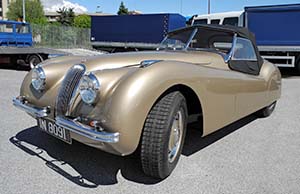 It was not until the early 1980s that he started to dismantle the car, but missing driving it he purchased another XK 120 which he ran for 14 years. This newer XK took Robert and his wife Ella to many JDC meetings in Northern Ireland and to the annual weekends with the IJDC before he sadly passed away in 2007. The dismantled IN 8091 passed through the hands of a number of dealers in the UK before ending up with XK enthusiast Stefano Rota in Bergamo, Italy. Stefano researched the history of the car while undertaking a nut and bolt restoration to restore it to its original condition as it left Camden Street.
* The first XK 120 in Ireland was ZL 454, a fully built up demonstrator bought by Gratton's of Dublin in the Summer of 1950 and raced by the late Maurice Cavey in the Phoenix Park the following year.  An experimental XK120  believed to have been used to develop the CKD assembly techniques, is currently being restored in Dublin. ZL 5983 originally owned and raced by Ituna sailor Tony Jacob and then by John Fitzgibbon was restored over 20 years and is now back on the road in Canada. Of the other cars, two or three are believed to survive in the UK.
The Dublin Jaguar assembly operation was the first ever outside Coventry and was often visited by other foreign importers and distributors as a template for setting up assembly plants in various other parts of the world. Drawings would also be made for Irish suppliers to produce items such as glass, interiors and radiators which would be locally sourced. Assembly was personally supervised by Frank Cavey and the 12 staff took great pride in their work in the early 1950's when they were building the fastest production car in the world and one of their cars finished 3rd in the Monte Carlo Rally in the hands of Cecil Vard.
While the best known Irish car assemblers such as Ford of Cork and Motor Distributors produced thousands of cars each year from the 1930's up to the early 1980's many other garage and engineering businesses assembled a wide variety of marques in much lower volumes. These varied from the occasional oddities, such as the single Crosley built by Lincoln & Nolan or the couple of Gordon Keebles built by Mc Cairns, to the genuine attempts to enter a new market segment, such as the four Morgans assembled by Gorman Brothers in an attempt to compete with MG TA's or the Heinkel bubble cars built in Dundalk to compete in a market to be dominated by the Austin Mini.
Photos of ZL 8060 are from the Frank Bigger Collection courtesy of Frank's daughter JoAnn Hodgson. and the photo of ZO 2259 is courtesy of the Spivack family.
If you have photos or memories of other Irish assembled XK's please Contact Us