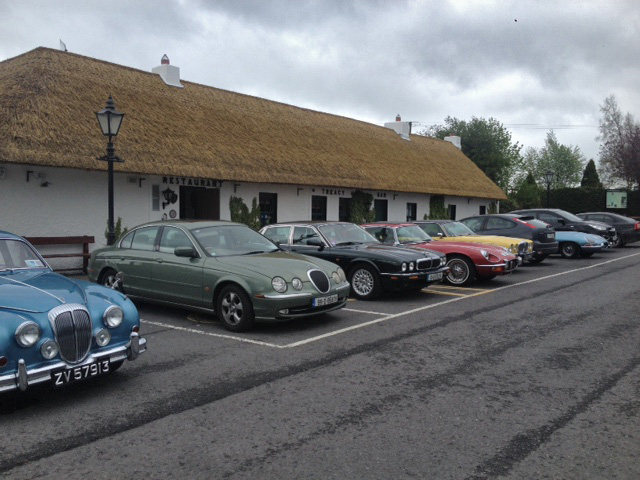 Membership Benefits
The Irish Jaguar and Daimler Club is regarded as one of Ireland's premier car clubs and remains the only Irish club dedicated to the Jaguar and Daimler marques.
In addition to a wide range of motoring activities, membership of the IJDC offers many benefits – technical evenings and visits to private car collections, full day and afternoon runs with lunch / picnics to places of interest, including joining other Car Clubs' Car Shows (see the Events page for details), a free quarterly magazine "The Growler", plus a range of unique Club Merchandise. Current members are entitled to a 10% discount when ordering parts from two of the UK's largest Jaguar parts suppliers and discounts from a number of Irish motor businesses. Owners and enthusiasts of all models from the earliest SS to the current F type are represented in the Club – see our News pages for photos of our recent events.
The Club organises and runs the Irish Classic and Vintage Motor Show, which has grown to be the biggest one day Classic Car Show in Ireland, a percentage of the proceeds are donated to our chosen charity for that year – see the Photo Galleries and News for pictures of the shows and our recent outings.
Fees
COST OF MEMBERSHIP : €60.00
Payable by cheque, postal order or by credit card (by phone only).
Application Form
Please click on this link which takes you to our application form as a Word Docx which you can download, print and return by post to our Membership Secretary.
Queries
Please use the form below to contact us with Membership Application queries.
If you wish to pay by Credit or Debit Card please let us know in the query and we will arrange a time to contact you by phone:
We regret that our Online Payments system below is not currently operational.
Please use the form above to contact us if you wish to pay by card.
Alternatively you can apply and pay online below by selecting 'IJDC Membership 2022', enter 1 as the Quantity then Go To Checkout (note that booking fee applies).  If using a phone, please click on the 'Click Here to Buy Tickets Button' first.
---