The first IJDC technical evening of 2012 was held in the premises of Cartronics in Santry with two commercial  presentations for classic car owners.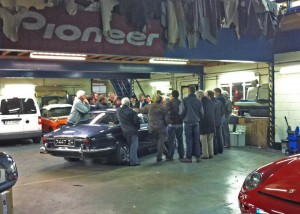 Opening the evening was Peter Kendrick from Millers Oil Ireland who provides a wide range of specialised lubricants and fuel treatments for classic cars, motor sport and motor cycle applications. It was the classic car oil range that Miller's made its name with and Peter explained that modern high quality synthetic oil was not suitable for older cars as they are designed to work in engines with very tight tolerances concentrating on long life and low emissions rather than just lubrication. While multi grade oils are still available the market was now dominated by low cost oils often with poor quality base ingredients.
Millers had designed a range of oils specifically for classic and vintage car applications, all with a high quality mineral oil base and and up to 1,200ppm of zinc – over 10 times the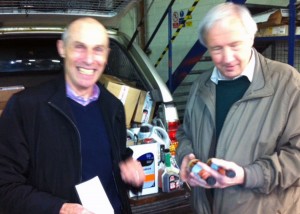 concentration of modern equivalents.  As well as the classic 20w50 in multi-grade and semi-synthetic Millers also offered Mini oil (also suitable for some overdrive gearboxes) and mono grade for pre 1930's cars. Peter explained that unopened oil had a long shelf life but was designed to absorb contaminants when in use and used oile will also absorb moisture when a car is parked up. For this reason he recommended changing the oil at the end of the season rather than when taking a car out in the Spring. There was also a lot of interest in the new Millers VSP Power Plus petrol treatment. The existing VSP is well known as an octane booster and lead replacement but the new variety also protects fuel lines against corrosion caused by the increasing amounts of ethanol used in modern petrol.
All of the Millers products are available from the Millers Oil Ireland website with the prices being very competetive with the UK and with generic eqivalents in Ireland.
Next to talk was Michael Stapleton representing Meguiars car care in Ireland.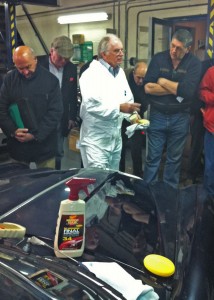 To the amusement of the couple of dozen people present Michael offered to demonstrate on the bonnet of Jim Byrne's 1973 Daimler which has an almost matt finsih having spent most of its life in the open. Michael started with Meguiars Final Inspection waterless cleaner to remove dust and loose dirt, then a clay bar treatment for ingrained dirt.  When happy with the surface he used a rotary polisher with a small amount of cutting compound on a dry pad. the technique takes skill and some practice, starting at a medium speed setting and being careful not to go below the top paint coat. Residue was cleaned off with a Meguiars edgeless microfibre cloth before starting with a dual action, 'DA',  polisher and a small amount of Speed Glaze sprinkled on the panel. Again the residue was cleaned off by hand before applying wax with a small soft sponge. The difference was incredible with the restored bonnet having a glass like finish  after half an hours work.
Michael reminded us to dry brush all residue dust off polishing pads with a scrubbing brush and to change cloths frequently for best results. He also remarked that many enthusiasts either wash or wax their cars frequently but for best results, and the longest lasting finish, bodywork should be washed (with a proper car shampoo), cleaned, polished and waxed in that order.